Many animals find fireworks scary. It's estimated that 45 percent of dogs in the UK show signs of fear when they hear fireworks. It doesn't have to be that way though, so don't ignore the problem.
There are lots of simple things you can do to help your pet deal with fireworks. By preparing in advance before fireworks start your pet will be better able to cope with the noises.
DOGS
Walk them during daylight hours to avoid times when fireworks are likely to be set off
Close windows and curtains to muffle the sound of fireworks
Put on some music or tv to mask the firework sounds
Create a quiet space where your dog can feel in control
Create some hiding places around your home
CATS
Provide hiding places in your home
Cats can become more stressed if they're outside during fireworks
Microchip your cats in case they're startled and escape outside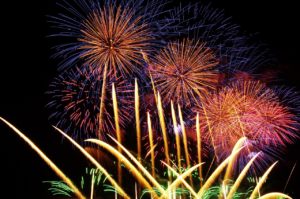 SMALL ANIMALS
Partly cover outside cages and pens with blankets so an area is soundproofed and hidden, but allow another area for the animals to look out
Provide bedding small animals can burrow in
Consider bringing them indoors – this will need to be done gradually so plan ahead
If your pet is naturally very anxious or gets scared excessively please see your vet as we can issue medication and time calming supplements which may help.
Also consider referral to a qualified animal behaviourist. Your vet will know some good ones in their area if you ask.
Have an awesome safe stress free November the 5th from us all at PetStoreo