The newest addition to a local community who didn't know themselves that they were crying out for this place!  Ever wanted a place to go rest up, socialise, grab a coffee or a bite to eat…….and it NOT just be "dog-friendly"?  "Dog-friendly" is yesterday's news…….."Dog-essential" is today's news!  If you're best bud just wagged his tail excitedly then the Doggie Diner is the place for you!
Billing itself as a "canine cafe for both humans and hounds", it has not one but THREE menus available*; human beverage, human food, and HOUND!
As the cafe was being created just feet away from my local corner shop, I admit I was cynical…….it'll never work, who takes their dog to a cafe? So I took my cynicism with me one morning and popped in for a latte. An hour later I left, bewildered yet enthralled.  What an amazing place! And I don't even have a dog!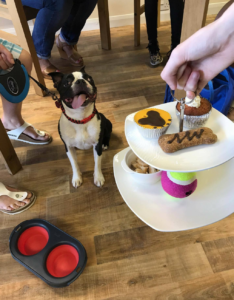 Sheena, the franchisee, simply oozes love and passion for the place.  From the moment you step in the door it is clear that everyone, whether with or without a pooch, is whole-heartedly welcome here.   Within moments of Sheena telling me how dogs are even pulling their owners through the door when trying to walk past, Sadie the Labrador bounced over the threshold with her owner Claire pulled behind like a frazzled parent! Sadie had only been in once before, but as Sheena dropped immediately to the floor to administer cuddles and tummy rubs (to Sadie, not Claire!) it was clear that Sadie had found her happy place!  She was finally convinced away to continue her morning walk to promises from Mum Claire to pop back later with her purse for a treat! I couldn't believe what I had just seen!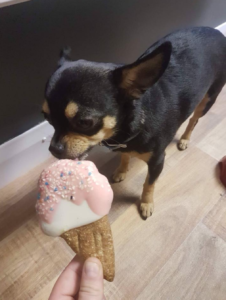 Then trooped in Henry with his folks for his morning muffin – clearly showing he was a regular waiting patiently for his snack while the humans pondered their breakfast choice from the ample menu on offer.
And it's not just snacks that are available; sausages, pupcakes, woofin's, you name it.  But for those special occasions it's definitely the Afternoon Tea or the Doggy Beer that's required for our four-legged friends.  Everything you could want for a drop in cafe.
And for those special occasions you can even pre-book a birthday party! Just that weekend Sheena already had a party booked in for one luck guy and his 10 (!) besties!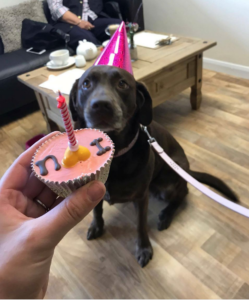 *The human beverage menu serves up great coffee and teas, and especially nice for the upcoming Autumn weather if their delicious hot chocolate. The human food menu then offers a tasty plate of panini's or a sumptuous slice of cake of all varieties.
Then the third menu…..well let's face it, this is the one we were really curious about. From doggie donuts to ice-cream biscuits covered in dog-friendly yogurt.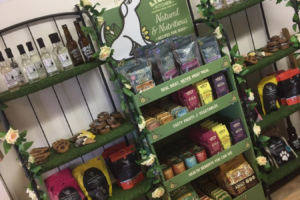 There are three Doggie Diners in the North East of England, and a number more planned for the next few years.  If you're in the area and you haven't already been, you must.  What a refreshing place.
Come inside with us as we have just conducted a Facebook Live Broadcast from the Doggie Diner see below with PetStoreo, Pet Stories, and Products:
Details about the Doggie Diner can be found here:https://www.facebook.com/doggiedinerdurham/