What is obesity and why does it matter so much?
Obesity is when your pet becomes overweight by more than 15% of its ideal body weight. Obesity can cause a multitude of health problems including diabetes, skin disease, heart disease and putting extra strain on their joints, particularly in those with arthritis. This can really affect your pet's quality of life. One study even showed that dogs who maintained their ideal body weight actually lived two years longer! 
Please note all of us staying indoors is not helping our Pets!!  Reduced exercise and mobility along with weight gain can aggravate arthritis too!! A new study has revealed the pandemic is fueling a pet obesity crisis!
Meet Paisley, a fat cat weighing twice its recommended weight has shed more than 3kg, thanks to a special diet plan.

Five-year-old Paisley weighed 10.75kg when she was brought to Cats Protection last year. After being put on a specially prescribed diet, she was adopted by James Frankland, 52, and is now less than 2kg away from her ideal weight.
How do I know if my pet is overweight?
If you aren't sure, you are not alone. A recent survey showed 76% of owners were unsure if their pet was overweight and 62% had never asked for weight management advice. It is estimated that 8.5 million UK pets are currently overweight. 

We use the body conditioning score (BCS) and monthly weigh-ins to monitor our pets' weight in the clinic. Our Vets and Nurses are always on hand to offer advice too! Why not use this guide produced by Royal Canin to check your pet's BCS or check out this great visual guide by Hill's below?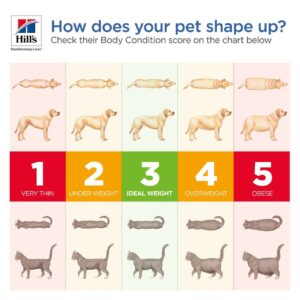 Why is my pet overweight? Did you know their healthy weight is determined at birth?
If your pet is eating more calories than their body uses, those extra calories will be stored as fat. Do you weigh out your pet's daily ration? 32% of us do not and this can make a huge difference to daily intake. The number of fat cells your pet has was determined when they were a puppy or kitten. Each of those fat cells changes in size depending on how much fat is stored within. The bad news is, once those fat cells are formed they become permanent. So that podgy puppy or cuddly kitten will have trouble losing weight or even maintaining a healthy weight as an adult.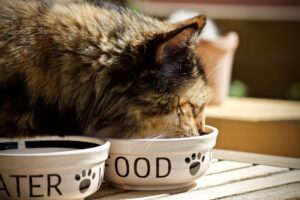 This is why we think it is so important to prevent obesity from the start of your pet's life and continuing into adulthood. Be treat-wise too –  treats should be no more than 10% of your pet's daily calories, and they soon add up. A slice of buttered toast to a spaniel is the same as two bags of crisps to us. Feeding your cat a small square of cheese is like us eating two and a half hamburgers! Take a look at the chart below from Hills pet food.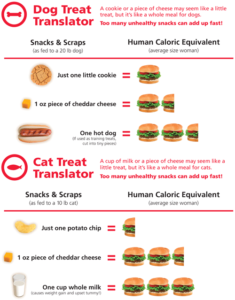 How can I avoid my pet becoming overweight?
Obesity is preventable – with a few easy steps you can help your pet maintain a healthy weight. That's our goal, happy healthy pets.
As part of our KISSCatCare and KISSDogCare (

Keep It Super Simple

) we advise weighing your pet every month and keeping a record in Kgs. This way you can soon spot any extra weight creeping on! If you do have any concerns about weight loss or gain consult your veterinarian or veterinary nurse for advice.

Weigh your pet's daily ration.  If feeding dry food you can keep a few bits of kibble to one side as treats.

Get creative with your exercise regime.  Cats love to chase laser pens and fishing toys, whilst

dogs love a treasure hunt for food around the house. 
Our slow feed puzzle bowl for cats and dogs help prevent obesity by slowing down your pets eating habits, they mimic the natural desire to forage for food. Daily rations last longer and meal times are more fun!
Could a slow feed puzzle bowl help my pet?
We featured Simba's story in a previous blog, but did you know our bowls are also ideal for multi-cat households? Even where there may be individual dietary needs and inter-cat squabbling at mealtimes! 
Elizabeth, a recent customer, was happy to find a solution for the complex needs of her household. Storm, an overweight arthritis sufferer with a skin condition would eat too quickly, bully her other two cats and then vomit after binge eating. Simba, part Maine Coon bolts his food and will only eat from a placemat rather than bowls he finds too small as they irritate his whiskers. Nala had taken to only eating when the others were not around or becoming distressed. Thankfully our bowls meet the needs of all three much-loved cats. The boys are no longer binge eating and vomiting has stopped. Storm's weight is coming under control which aids his skin condition and arthritis too. Nala loves the puzzle aspect and being able to eat in peace!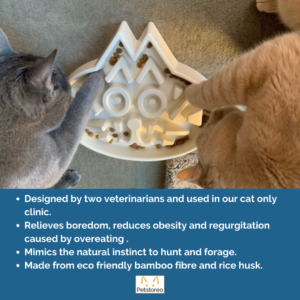 Another common problem is dogs 'hoovering' up their food, often leading to bloating, regurgitation and weight gain! Luckily for retired guide dog Toff, our veterinarian-designed slow feed puzzle bowl was a welcome solution. Toff's owner Gwen very kindly contacted us to let us know their success story and how delighted the family were with our bowl design. "I have just "inherited" my stepson's guide dog when she retired last Friday. She normally hoovers her food up at an alarming rate, so when I was replacing her old bowl. I thought I would try the slow feeder. Having looked on the internet at many different types, I decided that yours looked to be the best, as well as being eco friendly. So far she has not managed to toss it upside down in frustration, as she does with a treat puzzle she got at Christmas, and also, it is the longest time I have ever seen her taking to eat it- so, win, win!"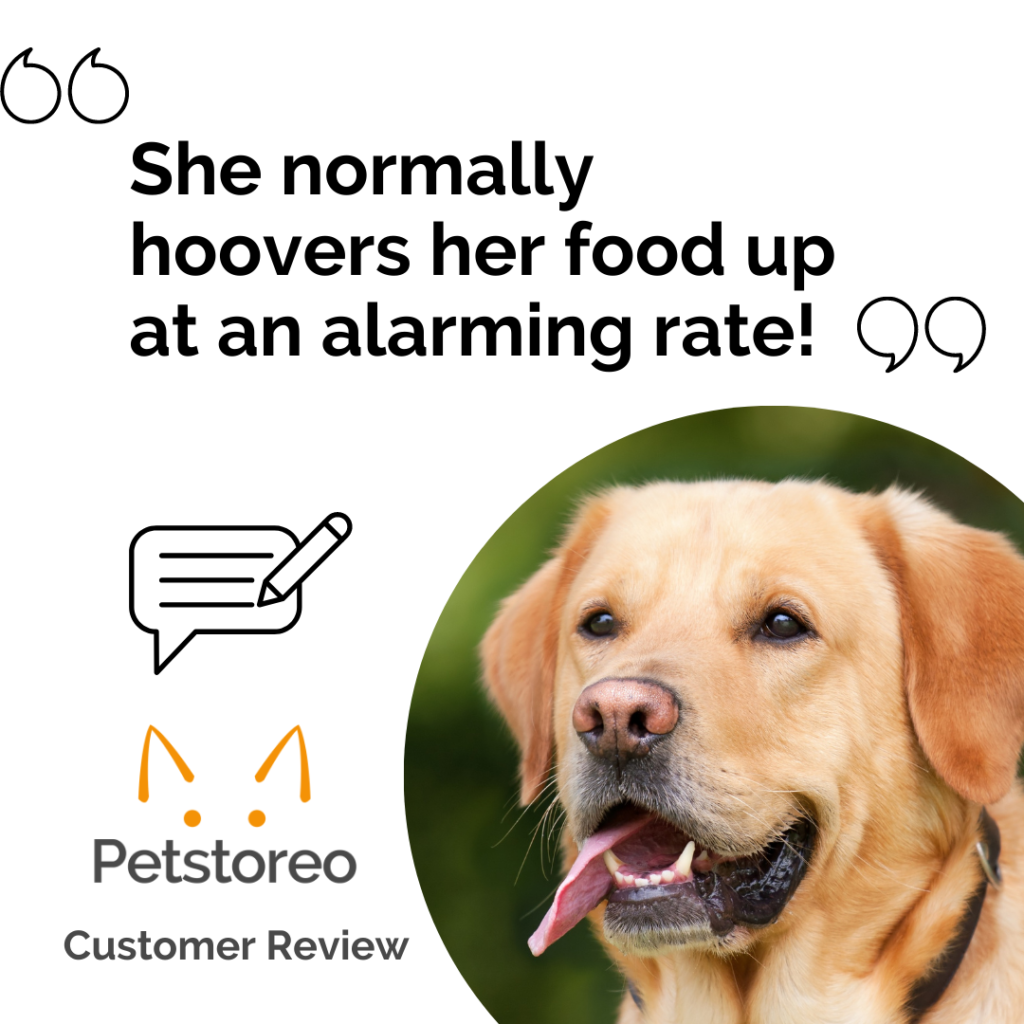 We use pet-safe eco-friendly non-toxic materials, bamboo fibre and rice husk, to manufacture our biodegradable bowls in a variety of colours. They can be used with wet and dry food and are dishwasher safe, although we prefer hand washing in hot water.
Here is a short video of Piper, our brand manager Gayle's cat, showing off her hunting skills with her bowl. We understand how fickle our felines can be, so have also produced a user guide to assist your cat in their transition to a slow feed bowl.
We love to receive feedback on our products, especially when we have made a positive difference. This is exactly why we do what we do! If you have a pet story to share with us, please let us know!